Ofcom reports that we are spending a record-breaking amount of time online. What should marketers be doing to capitalize?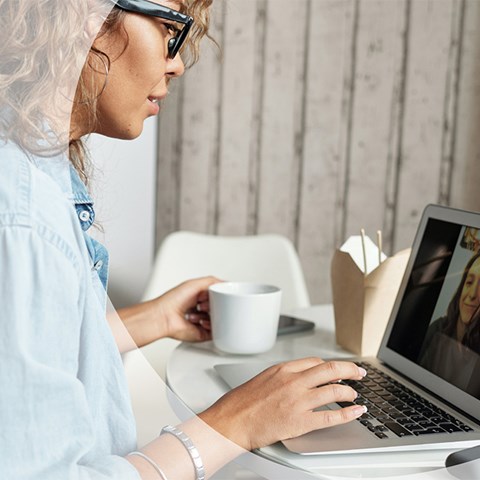 Ofcom's latest Online Nation report shows that Britain's internet users have increased the time they spend online significantly during lockdown, with 18-24 year olds spending the most - averaging 5 hrs 4 mins per day. However, the highest percentage increase over previous months has been the over-54 age group, who were online 24% more in April than in January. Time spent on social media sites was up by 36%, and 26% more time was spent on new sites. TikTok and Houseparty use rocketed to multiple millions of users, and there was a 20% surge in online streaming services. 
Marketers take note. Whatever your business, and whoever your audience, they are online now more than ever, and they are evolving their habits at a faster rate than ever before. 
It has been hard for marketers to know what to do for the best during lockdown, in the face of reduced resources, perhaps their own furlough, and uncertainty over future business direction. But as the dust begins to settle, and we begin to ease gingerly towards a return to some kind of normality, one thing is certain: the digital opportunity is huge.  
Whether managed by a marketing team, one marketing person, or perhaps the business owner, it's time to address digital marketing and take action. If you are short on time or ideas, don't forget to contact your marketing agency for support and advice. 
Website 
Your website is the beating heart of your digital marketing. It's now your primary interface with existing and new clients. Research suggests that it takes 50 milliseconds (0.05 seconds) to form an opinion about your website and determine if they are going to stay or go.* Take a look at it with a fresh pair of eyes and review it critically. How does it look? Does it represent your business as it needs to be in the post-COVID world? Is it direct enough? Is the copy working hard enough? To be effective in today's crowded online world, it needs to grab users, pull them in, give them key information and encourage actions.  
How closely and regularly are you setting and reviewing the analytics - are you measuring performance properly? Are you reporting? Is it meeting conversion goals? Are there areas or pages that are underperforming? What is the user flow telling you? Are you losing users at specific points? Have you done any user experience testing or analysis recently? Is the content up to date? Is it working for search engines? Does it meet all the current standards and regulations? Does it reflect your brand?  
If you do nothing else, review - or ask someone to review - your website immediately. The world has turned on its axis in the past 3 months, so however recently you created your site, there will be more you can do to improve its performance.  
Digital marketing strategy 
Stop what you're doing and review your digital marketing strategy. This is a new world, and online behaviours have shifted irrevocably.  
Take a good look at your budget and rethink where you allocate it. Revisit your audiences and their behaviours - what are they doing online? What content are they consuming? How are they staying in touch with their industry news? What are they buying? What are their concerns?  
When did you last look at other channels for digital? Have you considered at new platforms for advertising such as TikTok? Don't dismiss them without taking a good look. Have you researched vertical market opportunities recently? 
How do your assets look - do they need a refresh in the current climate? What are others doing - have you missed a trick? Are there opportunities to steal a march?   
Is now the time to hit PPC harder? Identify key service areas and focus budget on producing specific results?  
Does your SEO activity need a shake up? Are your keywords current and realistic? What's working and what's not? Get back to basics and imagine you were starting you were setting up the business and all of its SEO from scratch - is it really current? What would you - can you - do differently? 
There are so many aspects to successful digital marketing, and whatever your level of investment and activity, right now, with more people online than ever before, and such a changed landscape for all businesses, it's a great time to crack it open and see what more you could be doing. 
Social media marketing  
The stats are clear on this - social media use is up to new levels, and people are using it in different ways. Throw out the rule book and rethink how you reach people. This means you, B2B marketer - not just consumer marketers. Your clients are people as well as clients - do your homework, and find new ways to reach them.  
Social media marketing can be a drain on time. But it's possible to organise activity at a level that is manageable, whether you're a one-man team or an entire department. If you are down to minimal resources, the benefit of social is that you can roll up your sleeves and get stuck in.   
If you're new to social media, do your planning first. Carry out market research. Identify target markets. Establish market positioning. Carry out competitor analysis. Establish a strategy for reaching audiences. Set objectives and set budgets. Continually review, report and revise. 
If you're already established on social media then take stock and fully scope out new opportunities to reach your audiences and show them content that will engage and inspire. Review your assets - did you know that images get nearly twice as many more views than just text? We all know that video is a winner and user-generated content is gold dust that is known to produce significantly higher engagement.   
Revisit the channels you're using. It's fast moving world, and what was good a year ago may not be right now. And check current trends to make sure you're bang up to date and not missing opportunities. 
Boost content marketing  
With so many more people spending so much more time online, it's a great time to get ahead with content. Whether you're a B2B or B2C business, well put together content marketing can cut through the noise, and both differentiate and elevate your brand. There are thought leadership opportunities, for you as an individual and as a business, and the chance to create solid new opportunities if you produce content which adds value and offers real advice.  
This can be driven via your existing social media channels, and used to boost your organic search outcomes. It offers customers / clients more evidence of your expertise but more importantly gives you real opportunity to engage truly valuable customers in a conversation. 
Brand 
Review your brand and how it works online. It has to communicate your unique purpose and proposition instantly and effectively. If it's not working hard enough, then take action. There is no space for weak or woolly brands.  
Does it represent the business you are today, and the business you need to be tomorrow? Does it still resonate with your evolving audience? Does it stand up against the competition?  
Could you better convey your environmental or charitable credentials? Stats suggest that people will pay up to 50% more for products or services if they feel your business is making a positive impact on the world (Source: customer thermometer).  
Making sure your brand is future fit is a job that is worth spending time on. It's often overlooked by SMEs who don't imagine they have the budget for "proper" brand work. But it doesn't need to be expensive - you need to find the right partner, and you can also do some of the work yourself. Review, analyse, research, revise, test. Your brand is your most valuable asset, and the bedrock of your entire online presence. Make sure it's right. 
Online communications review and audit 
Take a step back and look at your online communications as a whole.   
Have they evolved to reflect today's circumstances? Sure, we know this isn't forever, but life will never be quite the same again so consider if your messaging, objectives and positioning are still right. Obviously you need to ensure everything remains in line with your business brand, but tailored appropriate.   
Then you need to check for consistency. Data suggests that it takes 5 to 7 interactions with a brand to remember it, so you need to make sure the experience is distinct and recognisable each time. 
That might mean spending some time editing and updating - copy, content, and graphic elements. But it's worth it when you think how much greater the chances are of you being seen online, and how much more competitive it is out there if everyone is smartening up their online communications. 
Look for agency support 
It might be the time to reach out for some support. I can't speak for all agencies, but SG works on a really flexible basis, giving clients as much or as little support as they need.   
Whether it's a bit of tactical input at strategy level, or some practical support at implementation level, we can find a solution that is cost effective and plugs the gaps in your own digital marketing provision. We don't insist on monthly retainers, and can help to advise on what areas would be good for us to work on and where we think you could do it yourself. 
Don't let lockdown stall your marketing - maximise the opportunity that a massive uplift in online activity presents. Start now, so that you're ahead of the pack as the economy picks up.